Joker
is set for its world premiere at the Venice Film Festival this month, and in anticipation, director Todd Philips has shared a new look at star Joaquin Phoenix in full clown makeup as he fixes us with a bone-chilling glare from the cover of
Il Venerdi
magazine.
The movie doesn't open until October 4, but has already generated quite a lot of buzz – both positive and negative. Those who have seen it offer very high praise for Phoenix's turn as Arthur Fleck and believe he has a good shot at an Oscar nomination. However, a leaked version of the script has also come in for some backlash because it reportedly depicts the main character – who is a mass-murdering psychopath – as a mass-murdering psychopath.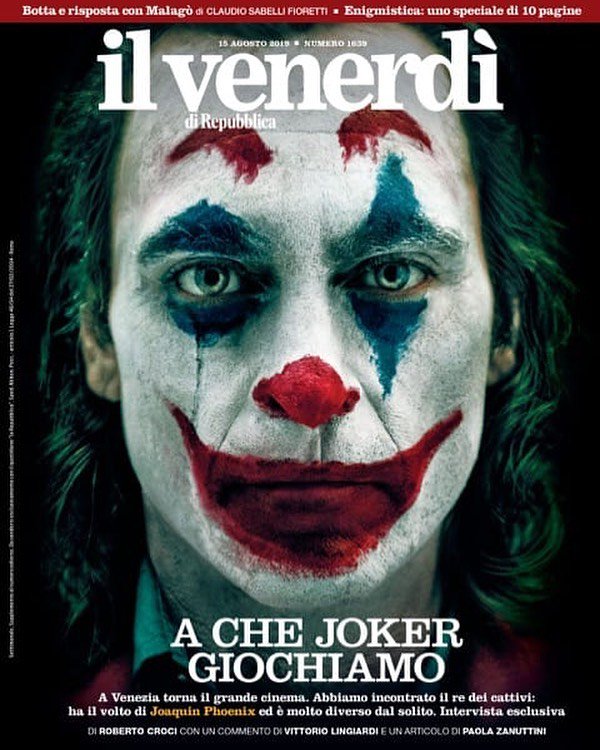 Joker also stars Robert De Niro, Zazie Beetz, Bill Camp, Frances Conroy, Brett Cullen, Glenn Fleshler, Douglas Hodge, Marc Maron, Josh Pais and Shea Whigham. The movie's worldwide premiere takes place at the Venice Film Festival on August 31, at 7pm Central European/1pm Eastern/10am Pacific.
Tell us, are you looking forward to Joker ? Drop us a comment down below, and have a scroll through some hi-res screengrabs from the first trailer.
DISCLAIMER
: ComicBookMovie.com is protected from liability under the DMCA (Digital Millenium Copyright Act) and "Safe Harbor" provisions. This post was submitted by a volunteer contributor who has agreed to our
Code of Conduct
. CBM will disable users who knowingly commit plagiarism, piracy, trademark or copyright infringement. Please
contact us
for expeditious removal of copyrighted/trademarked content. Learn more about our copyright and trademark policies
HERE
.
[LESS]
View original article here Source