Swinging into the Marvel Animation panel at D23 Expo yesterday was Spider-Gwen, with a brand new trailer for
Marvel Rising: Battle of the Bands
.
Set to debut on the Marvel HQ YouTube channel next week, Marvel has released a new trailer and poster for the upcoming animated special.
Marvel Rising: Battle of the Bands sees Gwen Stacy, aka Ghost-Spider, set to rock out in the local battle of the bands with her friends, only to be sidetracked with an investigation into mysterious attacks around the city. Struggling to balance her personal life with her super hero life, Gwen Stacy has to find a way to be there for her friends and the Secret Warriors.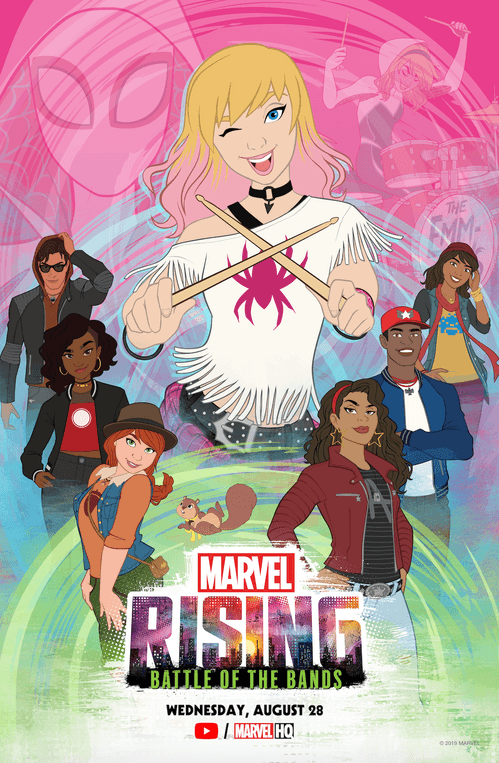 On the day of Gwen's Battle of the Bands competition, mysterious attacks force her and the Secret Warriors to investigate. Can they save the city and get Gwen to the concert on time?
Marvel Rising: Battle of the Bands is written by Mae Catt and executive produced by Joe Quesada, Dan Buckley, Cort Lane, and Eric Radomski. Dove Cameron returns as the voice of Gwen Stacy/Ghost-Spider.
Marvel Rising: Battle of the Bands will hit the Marvel HQ YouTube channel at 4:00 p.m. PT on Wednesday, August 28.
DISCLAIMER
: ComicBookMovie.com is protected from liability under the DMCA (Digital Millenium Copyright Act) and "Safe Harbor" provisions. This post was submitted by a volunteer contributor who has agreed to our
Code of Conduct
. CBM will disable users who knowingly commit plagiarism, piracy, trademark or copyright infringement. Please
contact us
for expeditious removal of copyrighted/trademarked content. Learn more about our copyright and trademark policies
HERE
.
[LESS]
View original article here Source